Haier, Huicui, China Mobile and Huawei have released the world's first joint solution for smart factory "5G+ Machine vision"
Haier, Huicui, China Mobile and Huawei have released the world's first joint solution for smart factory "5G+ Machine vision"
[Shanghai, China, September 19, 2019] Haier, Huichui, China Mobile and Huawei recently released the world's first smart factory "5G+ Machine vision" joint solution at huawei Fully Connected Conference 2019. The combination of intelligent manufacturing, operators, equipment providers and application providers enables the industry to realize the combination of cloud machine vision system and 5G+ edge computing in the industrial manufacturing environment for the first time. It is also a phased progress made after the joint release of the world's first "5G+AI" interconnected factory at the end of July this year. It represents a big step forward for Foursquare's exploration and practice in the field of 5G smart factory.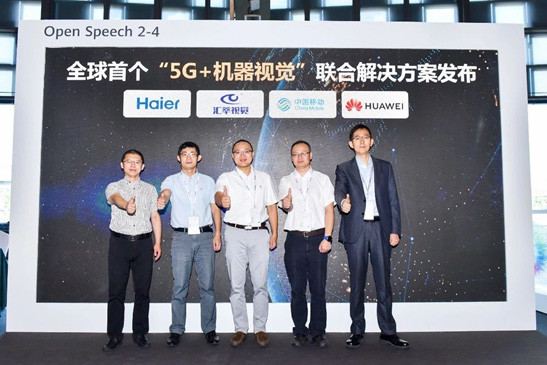 Qingdao haier industrial intelligent institute director of technology strategy Liu Zili, director of haier digital technology service platform is liu xinwen, hangzhou collects gathers intelligent technology co., LTD., vice general manager zhou soft just, China mobile (Shanghai) industry research institute of industrial energy products research and development department general manager Meng Xin, huawei cloud core network strategy and business development President & 5 g network industry association director Dai Jisheng out uncertainty Attended the launch ceremony. Liu Zili, as a representative, introduced the architecture, deployment, advantages and prospects of future application of "5G+ machine vision" solution.
Machine vision detection and recognition technology has been widely used in industrial production, but there are some "bottlenecks" restrict the further development of industrial manufacturing to intelligent manufacturing. The joint of China mobile, huawei, haier collects gathers together to build a "5 g + machine vision solutions, based on the network of 5 g + MEC computing power, selection of machine vision as the upper application, the formation of end-to-end integrated solutions, machine vision APP deployed in MEC, implements the cloud algorithm for control, self-optimizing, enterprise data is the key to the campus safety guarantee, And break through the bottleneck of traditional machine vision such as high cost, upper limit of efficiency and unstable quality. Algorithmically cloud investment cost savings; The network with high speed and low delay makes the detection more flexible and improves the operation efficiency significantly. The synergy of big data processing and deep learning ensures the improvement of quality; Cloud deployment makes commissioning, maintenance, and expansion easier and reduces time significantly.
The release of the world's first smart factory "5G+ machine vision" solution also provides an important reference for the application of 5G+MEC in other scenarios. It can be copied and applied to smart logistics, smart parks, smart homes and other fields, becoming an important cross-field, cross-platform and cross-industry solution. Haier, Huicui, China Mobile and Huawei will continue to deepen cooperation, continue to explore and innovate, and continue to move forward in the development of more smart factory scenarios.