Huawei and Huicui 5G+Machine Vision MOU Signature
On September 23, Huawei Fully Connected Conference opened in Shanghai World Expo Center. Huawei 2020 HUAWEICONNECT is huawei's largest global ecological conference for the ICT industry. It aims to build an open and cooperative global sharing platform, join hands with all parties in the ICT industry from all over the world to discuss the development direction and future opportunities of industry digitalization. Leading technologies, products and solutions in the ICT field will be displayed, the latest cooperation achievements will be jointly displayed, successful practices will be shared, an open and win-win healthy industry ecology will be built, and new values will be created in the industry. Huawei rotating Chairman Guo Ping attended and delivered a keynote speech entitled "5 Machines" to Create New Value in the industry. Collects gathers intelligence, chairman of the week was invited to attend the conference, the signing ceremony in the afternoon, huawei cloud core network strategy and business development Dai Jisheng and collects gathers intelligence, President, chairman of the week and kin attended the signing ceremony on behalf of huawei and collects gathers signed a cooperation agreement "5 g + machine vision", jointly promote the 5 g deterministic network application in the industry, gather industry strength, To promote more industrial applications and accelerate the digital transformation of the industry. Huawei and collects gathers intelligence in 5G+ successful cooperation in the field of machine vision has been highly recognized at home and abroad, the two sides will be through the signing of cooperation, in the field of

5G+

machine vision omni-directional depth cooperation, continue to explore 5 g + business innovation and application of machine vision scenes, to promote the mature technology of

5G+

machine vision and copy for commercial use.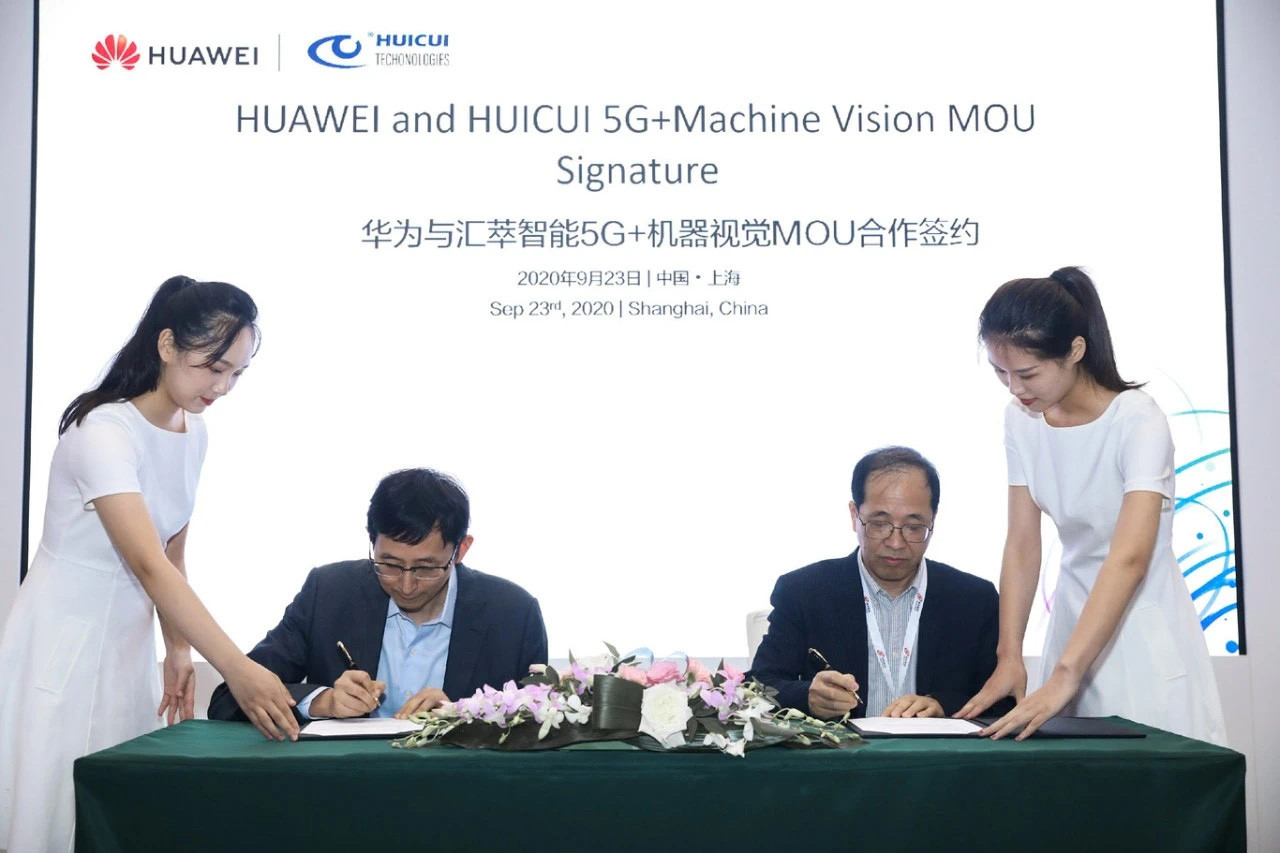 In September 2019, haier, huawei, China mobile and collects gathers in huawei 2019 all join conference the world's first "5 g + machine vision" wisdom factories joint solution, in 5 g wisdom factory entered the international leading part in the field of machine vision, the cooperation is also smart manufacturers, operators, equipment, application of business combination, It is the first time in the industry to realize the combination of cloud-based machine vision system and 5G+ edge computing in the industrial manufacturing environment. The integration of 5G deterministic network and machine vision industry will continue to promote the industrial development of 5G+ machine vision and can be replicated in more fields, becoming one of the core capabilities of industrial Internet platforms.
As a machine vision company in the forefront of the industry in China, Huicui has been focusing on the research and development of the core technology of artificial intelligence and general intelligent high-speed machine vision platform for eight years. Several products have been developed to fill the gap in China. At present, the products have been widely used in electronic manufacturing, automobile manufacturing, robotics, printing, packaging, logistics, food, biomedicine, textile, medical equipment and other industries and has been highly recognized in the industry.